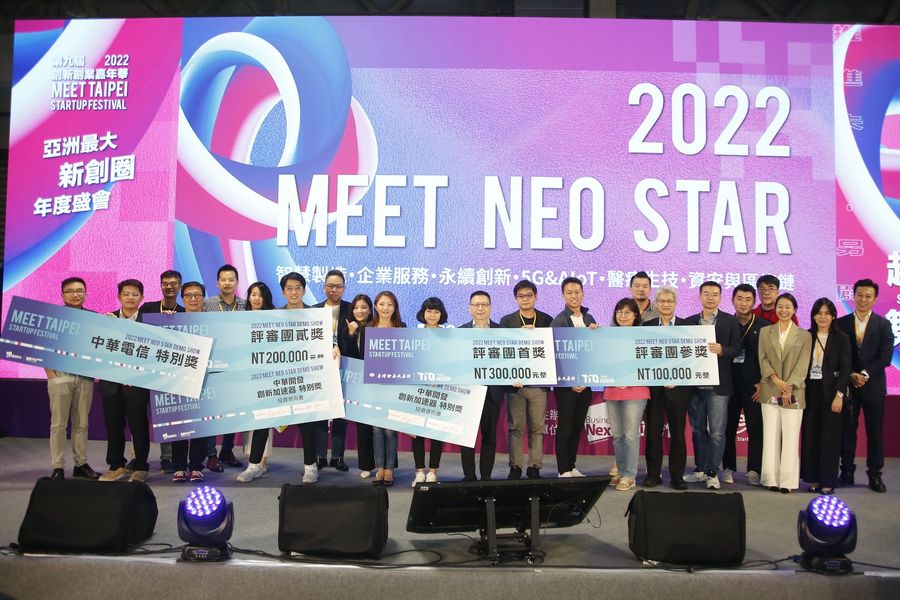 LUCIMA was honored to be invited by the Meet startup gathering held by Business Next Media to join the panel of judges of the 2022 Meet Neo Star Demo Show. The panel of judges was formed to appraise the achievements of the top 30 teams selected this year.
Since 2011, Business Next Media has been dedicated to discovering innovations and select projects, while presenting them in front of venture capitalists and panels of industry experts in the form of a demo show. This long-standing tradition serves to create market visibility and potential investment opportunities for budding startup teams.
After careful and professional evaluation, we concluded that Calyx Biotechs, Slasify, and Lypid are the top 3 winners of the 2022 Meet Neo Star Demo Show.
Calyx Biotechs uses M13 phage, engineered by UC Berkeley and Lawrence Berkeley National Laboratory, as the base material for its ammonia gas detector. It is coupled with a long-range and low-power wireless transmission system to transmit important environmental parameters such as ammonia concentration, temperature, humidity, etc., to the cloud to help users monitor the surrounding environment in real-time.
Slasify is a one-stop platform for global payroll settlement for the new generation of remote workers. It streamlines complex administrative procedures of cross-border employment and optimizes human resource management. Currently, Slasify provides cross-border payroll transfer, recruitment, and tax compliance services in over 150 countries, enabling multinational companies to quickly enter the global market without having to set up entities in different countries. Doing so allows employers to focus on global business strategies and operations.
Lypid is a Silicon Valley-based innovative food technology company specializing in the development of alternative meat solutions. Its proprietary PhytoFatTM pure plant-based fat is designed to meet people's desire for taste and texture in food. With a high melting point similar to that of animal fats, PhytoFatTM is set to be the key to delicious alternative protein foods around the world.
We would like to thank everyone we met at the 2022 Meet Taipei startup festival. If you have more ideas to discuss with us, please feel free to contact us. We look forward to creating more success stories together in the future.