The US market gives us great opportunities to make investments all over the world. We have access to ADRs like TSM and TCEHY as well as history's strongest index funds in the SP500 (SPY, IVV, etc.).
I'm looking for deals and I'm investing in the long haul. I bought Tencent, JD, and more Alibaba yesterday. I believe that the largest market in the world will eventually recover from the political shakedown. At the current prices these companies are heavily discounted (at one point BABA down over 50% of its high) and should be worth considering for long-term opportunities.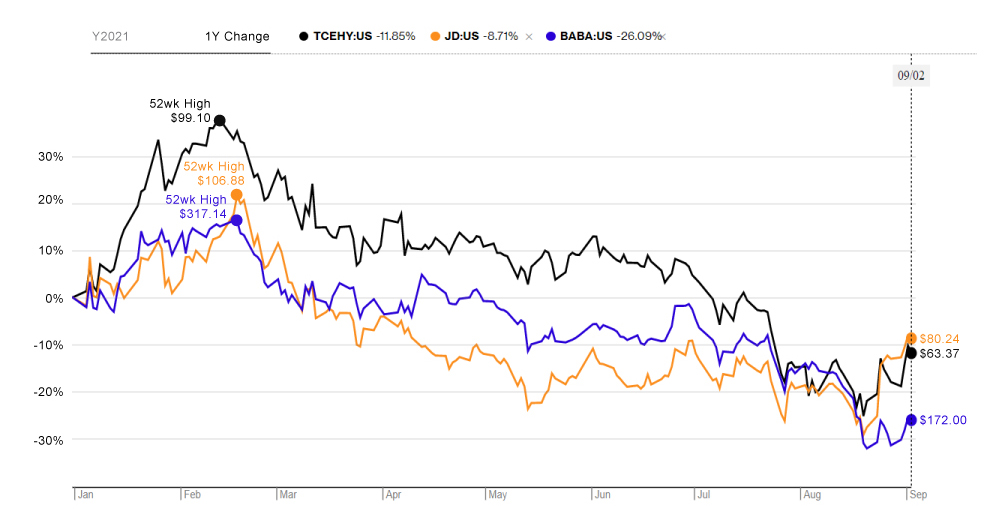 Additionally, big name investors such as Cathie Woods have stepped in and bought (back) in recently after exiting the markets only weeks ago. Regardless of uptick the cases of the delta variant of COVID-19 or Xi's agenda for reshaping China, these names will survive and should not only grow but prosper in time. The technical charts reflect a (soft) bottom but only time will tell whether or not the bottom holds. The question is, will you be able to react in time for the bounce?
These are some of the only remaining laggards in the US markets. With liquidity aflush there's hardly any stocks left still discounted as a result of COVID-19. That's why I've long looked to the gaming (casinos), hospitality, airline, and REITS. I've bet on the names I know and love. They include RCL, LUV, DAL, HLT (currently sold), ABNB, and MGM. In fact, I've added my positions in LUV, DAL, RCL and recently added ABNB and MGM to the portfolio. As the delta variant wanes these industries will remerge as part of the great reopening and return to normal. New variants will come and go and booster shots will follow. Anti-vaxxers will eventually learn to play by the rules of society or stay at home and be ostracized from society. Humans are resilient. We find ways to cope. And as far as Americans go, we never ever sacrifice our way of life. Listening to the stories of my friends that have returned from their summer in the US about the energy and optimism in the air gives me the confidence to say that the reopening trades should be a good bet regardless of how ugly their current financial statements might be. These companies will survive and prosper. Handshakes will return.
My last thought is not unusually also a controversial one. As the US markets make new highs seemingly every day I know many investors (previously myself included) that are out of the market. These investors say one or more the following statements. The market is too expensive. I'll buy on the dip. It doesn't make sense. I too was one of these investors and in 2015 I liquidated my portfolio and waited for the dip that didn't happen until the beginning of 2018 briefly. By then I had already handed my entire portfolio to my wife. Disgusted by the returns I would have generated (but didn't) over 3 years I turned my attention to other projects. I wasn't the only one. I listened to some old podcasts recently and guys like Gary Vaynerchuk were also out of the market entirely in 2015 because they (we) believed a correction was coming. A correction that didn't come for 3 years. As I look at the market and listen to the naysayers I realize I'm about to make one of the biggest mistakes of my life again. As a result, I have decided to get back into the markets into IVV dollar-cost averaging out my allocation over 30 trading days. This means that I'm buying every day for 30 days to get the monthly average price. But think about how much liquidity is currently in the market right now.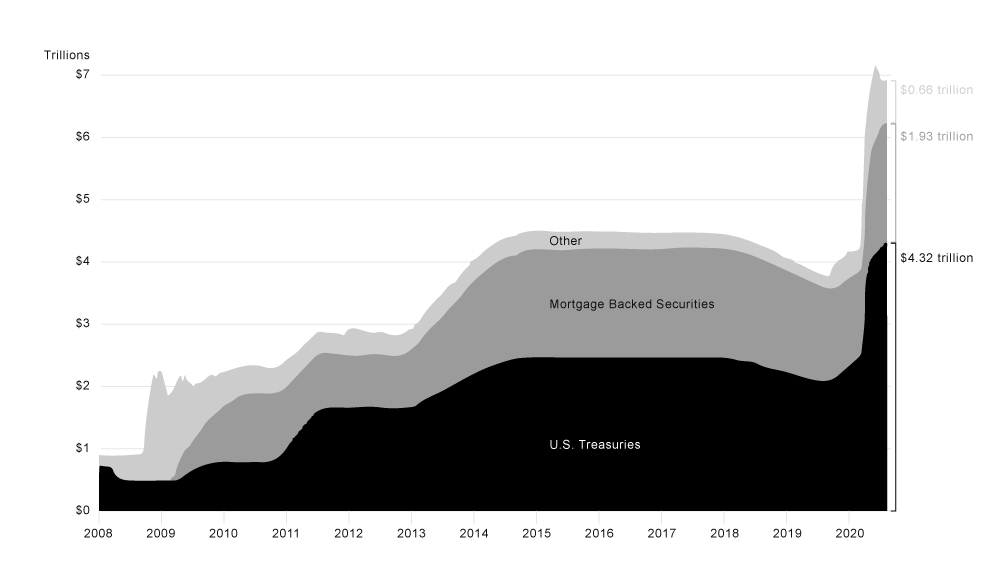 Federal Reserve Assets 2008 – 2020
Source Federal Reserve Board of Governors
Even when you turn off the tap, do you think that the trillions and trillions of dollars that came out before just suddenly evaporates? Also consider that EM and China and even Europe are suddenly stalled as a result of the delta variant. Even if it's the most expensive market in the world, it's also the best market in the world. That said, I do think eventually other markets will bounce back but US equities remain the clear winner in this picture.