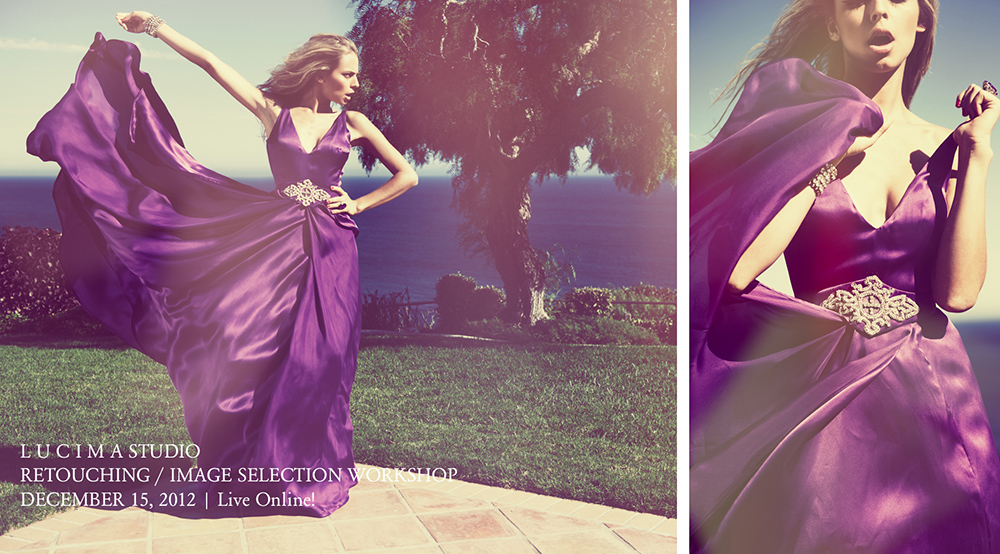 IMAGE SELECTION & RETOUCHING WEBINAR REBROADCAST
Although the live event has passed, you can purchase the rebroadcast of this webinar below!
So you've got hundreds of pictures from your well-executed shoot.
Now what?
Perhaps the most overlooked part of photography workflow is Image Selection. From my experience with previous workshop photographers, Image Selection is the most underdeveloped skill set and consistently weak link in the workflow. Time and time again I find photographers taking fantastic shots only to select the wrong ones for their portfolio.
Why?
Simply put, photographers typically consider only the photographic aspects of the shot. They look at composition, lighting, exposure, and other photographic technicalities. And they wind up with portfolios chock-full of technically perfect and yet utterly boring, irrelevant, and awkward images.
In our online workshop we will define the various perspectives of image selection; from photography to styling to makeup to agency and more. Then we will hone our ability to see things from the Editor's perspective. Because while there are many different perspectives with which you can view images, the Editor is bound not by style, photography, makeup, hair, model, or even fashion. No. Instead the Editor is bound by advertising dollars. Why are advertising dollars important? Because advertising dollars quantifies a skill set that is otherwise highly objective. After all, when you have the Guccis, Louis Vuittons, and Pradas each paying hundreds of thousands of dollars to place ads next to the images in your magazine, then you can rest assured that you've selected the right images. Otherwise you fade into the abyss with the rest of the magazines that can't survive in the post-Internet-publication apocalypse.
With the Editor's perspective you will select more relevant, more powerful, and overall stronger images. It's this perspective that drives the editorials in my own portfolio.
RETOUCHING

Natural light post-processing workflow
Of course image selection is useless if you can't process the images. In our online workshop we will spend 90 minutes examining my studio B&W post-processing workflow as well as my natural light post-processing workflow. I have an entire library of full-layered Photoshop files allowing us to deconstruct and reconstruct existing images in my portfolio. We will go through each layer and I will explain to you what I did and why I did it. Beyond this explanation I will describe the philosophy behind the overall approach so that you have a good understanding of the high-level direction of each image.

Example of the type of image resulting from my B&W retouching
This is a workflow-intensive online workshop. We will cover as much as I typically cover in my 2-day workshops. The workshop is designed to improve individual portfolios. With improved portfolios you will attract better models, talents and clients.
REBROADCAST
This is a rebroadcast of the live workshop from December 15, 2012. The payment for the rebroadcast lets you register an account that can access the rebroadcast from lucima.com indefinitely. So you can watch it as often as you want and as many times as you want (as long as you don't share the video). You will also have all the controls that Vimeo provides; play, pause, fast forward, rewind, HD 1080, etc.
Fee: $265
Click here to see my previous workshops!
-Check out the rebroadcast of the Working with Modeling Agencies Workshop from January 2013!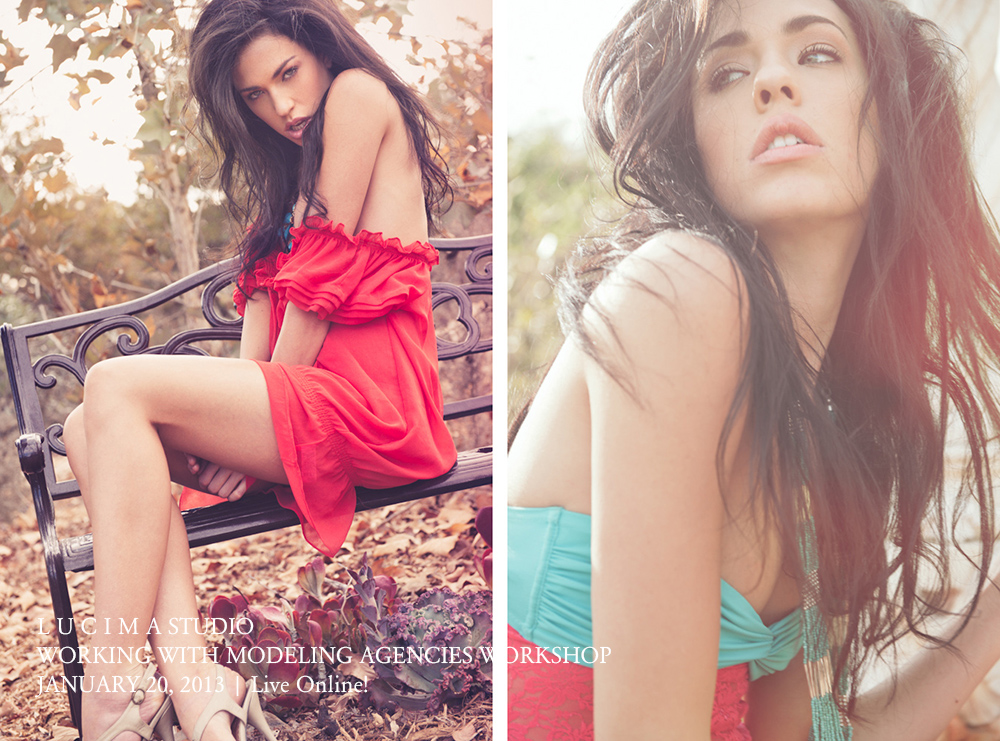 -Check out the rebroadcast of the Analog Retouching Effects Workshop from February 2013!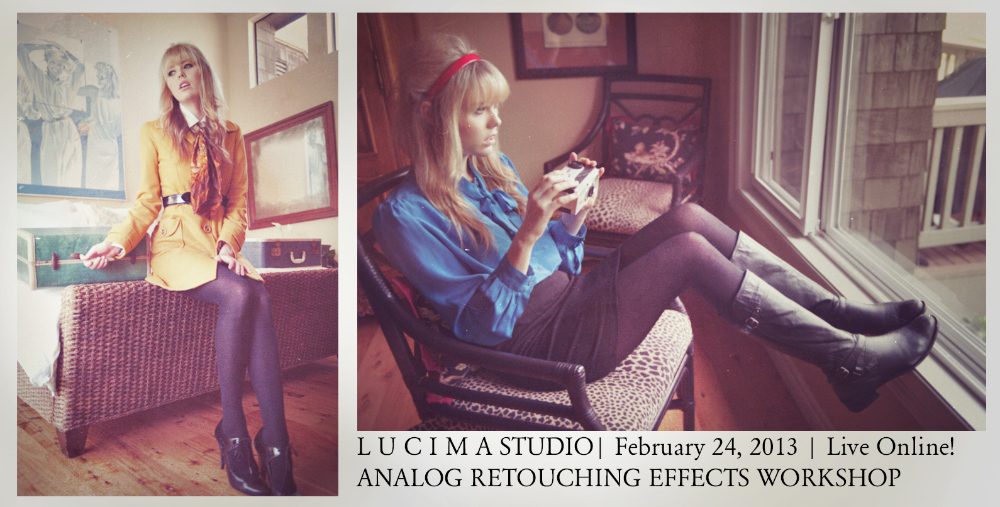 Check out the rebroadcast of the Managing Location Lighting Workshop from April 2013!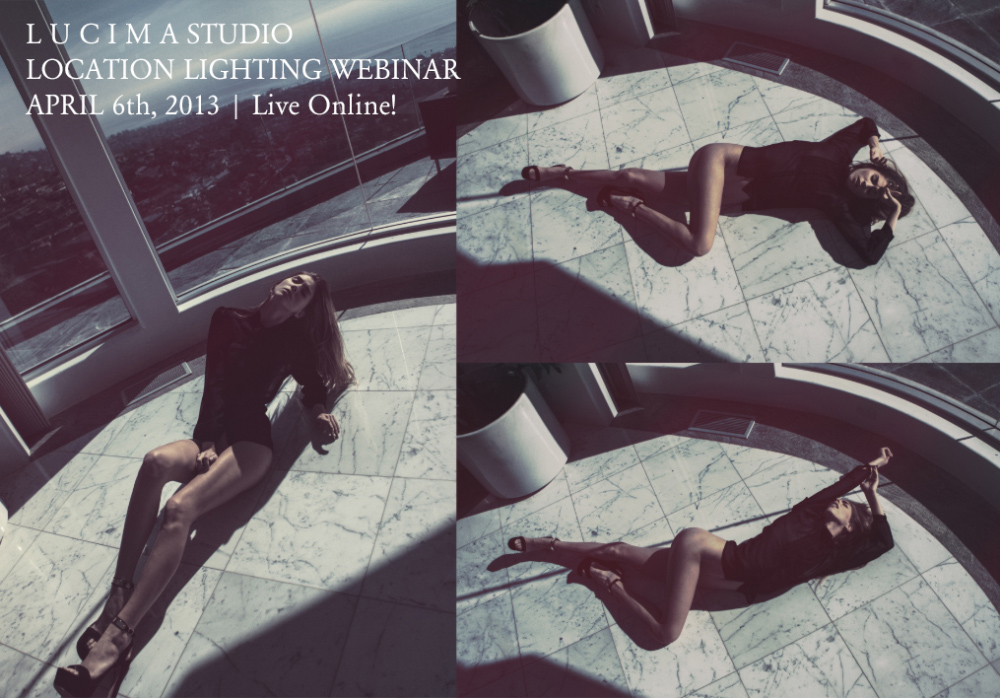 Check out the rebroadcast of the Model Direction/Interaction Workshop from April 2013!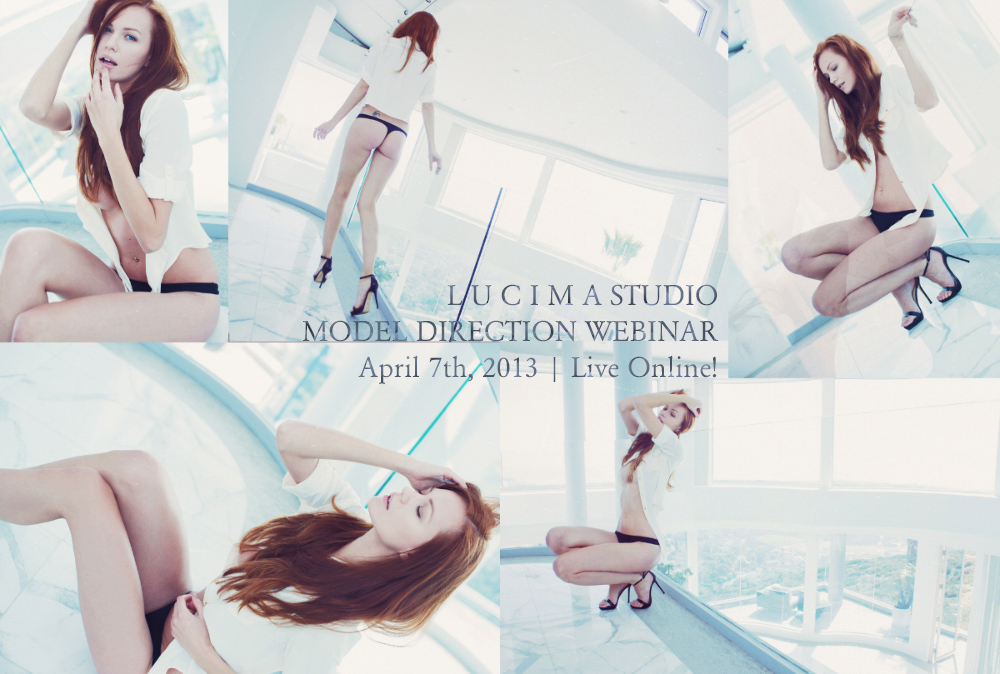 Check out the rebroadcast of the Adobe Camera RAW Adjustments & Balancing Retouching Webinar from June 2013!